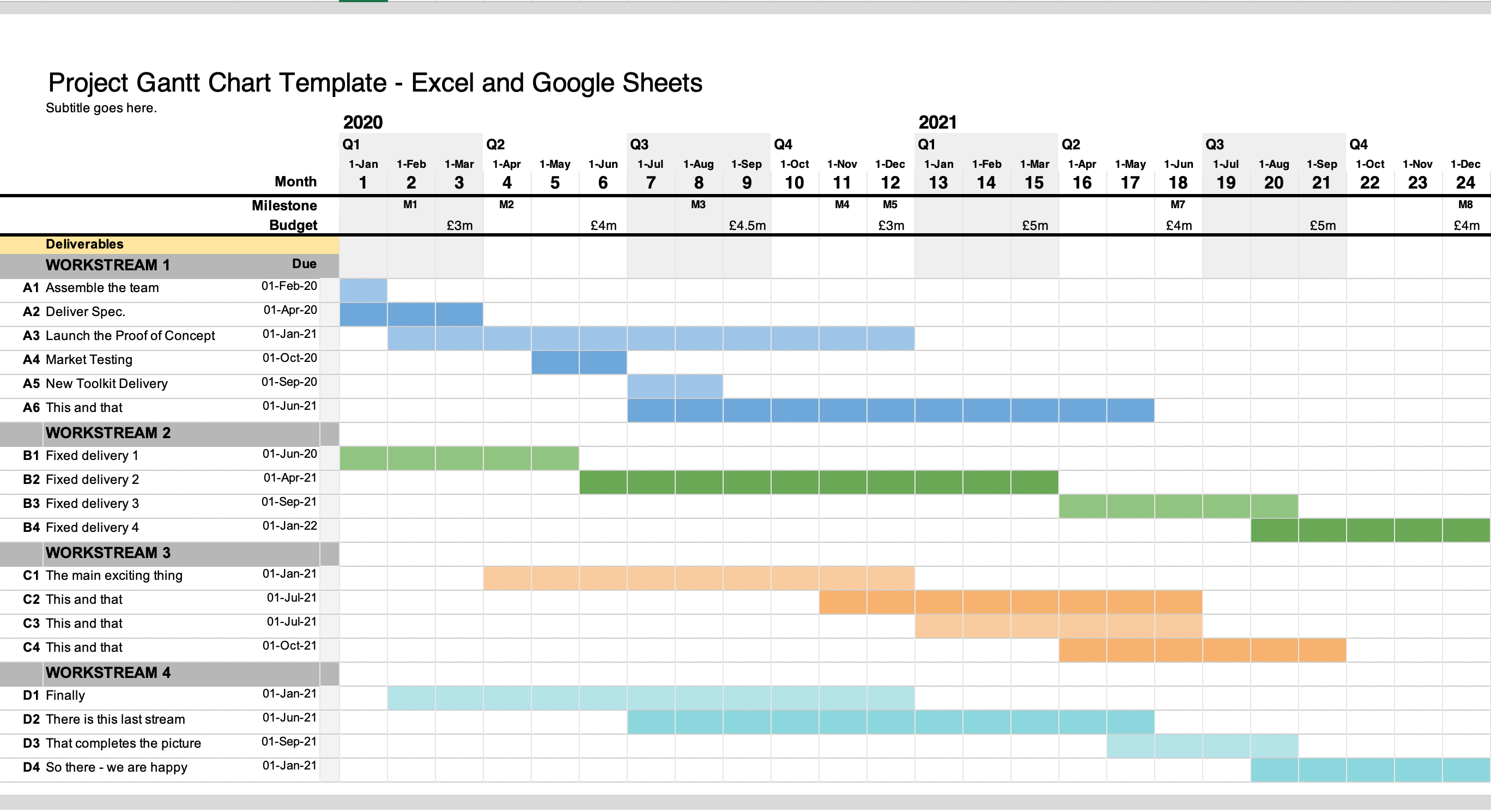 Find out how to create a Gantt Chart using Microsoft Excel the simple way. Avoid all the fuss – do it in minutes.
How do I create a Gantt Chart in Excel?
1. Set your timeline across the top. Each column should be a time unit – e.g. week / month.
2. Allocate a row underneath the timeline for "Milestones".
3. Setup a row for each deliverable, as a list of line items underneath your Milestones row.
4. Make the first column larger to allow for deliverable titles.
5. Set out your deliverables in the rows arranged in time order, with the first one at the top.
6. Alternate the rows with two different colours or shades so that they are easy to differentiate at a glance.
7. Test it on a friend. Ask them "Is this easy to understand?" and optimise it with their feedback.
How do I make a Gantt quickly using Excel?
Avoid all the dynamic elements: simply use the excel cell shading and copying features to save time.
1. Timeline: Set the first few date increments horizontally across the top, then drag across and Excel does the rest.
2. Deliverables: Set the first few "deliverables" vertically down the left, then drag down and Excel magically uses your format.
3. Gantt bars: Use cell shading to create Gantt bars, and alternate the shades for each line to make it easy to read.
4. Milestones: Include a row at the top to highlight important Milestones.
Avoid common Gantt mistakes
Don't make your Gantt Chart too complex! It should fit on one side of A4.
Keep it up to date! Things change as a project rolls out, so make sure you update it regularly.
Keep the number of milestones manageable! Too many milestones makes people lose focus.
Example Excel Template
Are you short on time?
Use these templates to help with this Best Practice:
Business Topics that support this Best Practice
Template and Guide Aspects that support this Best Practice