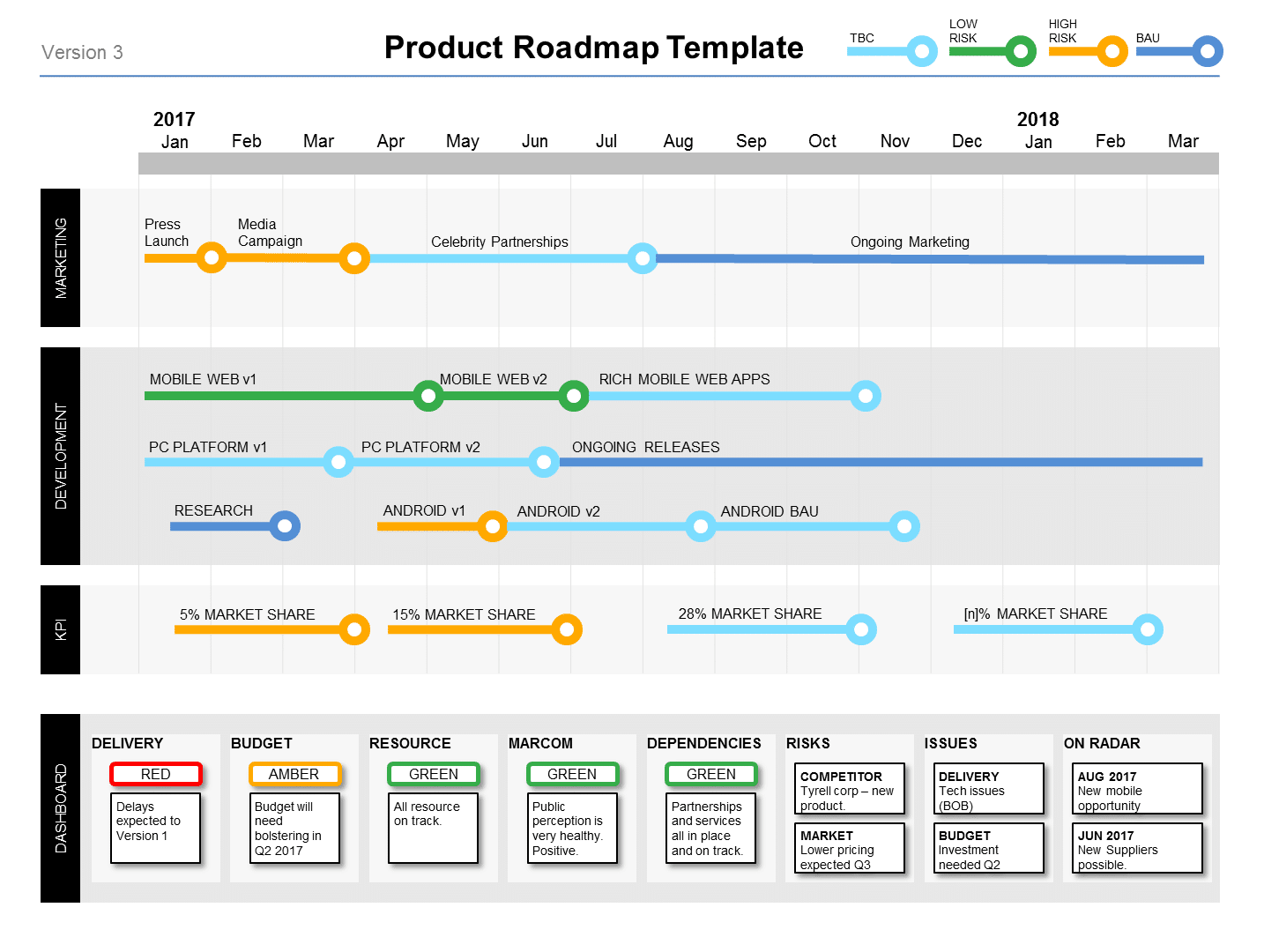 Here's a step by step guide to create one quickly – 5 minutes for a 1 side Roadmap.
How do I create a Powerpoint Product Roadmap quickly?
1. Decide the timeframe, and set a timeline along the top of the page.
2. Establish 2-6 "Workstreams" as horizontal rectangles under the timeline.
3. Set out the "work units" as small boxes with labels in each workstream, up to 6 per workstream.
4. Decide a few key deliverables  and set them as milestones above the timeline.
More Information on Powerpoint Product Roadmaps
The Powerpoint Roadmap is an essential tool in every Project Manager and Product Manager's toolbox.
Massive Gantt Charts become unweildy. WBS diagrams are too complex.
So – the Roadmap format can communicate your plans, key milestones and status "at a glance".
Example Powerpoint Product Roadmap Template
The Process
With all of these steps, bear in mind that you must keep the document un-cluttered; the idea is that your stakeholders can take in the overall message in 2-3 minutes. Keep it simple!
List your "Workstreams" – what are the project teams, or streams of activity, that make up your Project/Product?
Decide the timeframe – what is the length of time most useful for your comms, and most useful to get your message across?
Set out the "work units" in each workstream – what are the large project units, of at least 1 month, that make up your workstreams?
Decide the key deliverables & milestones – what are the most important deliverables or "project moments" that you need to focus people on?
Include any key messages, using infographics or colour coding – what are the status, positive, or indeed warning messages you want to communicate?
Select a template – which of the templates below will save you time in creating a stunning Powerpoint Roadmap format?
If you are going to be creating a lot of Powerpoint Roadmap formats, consider our Powerpoint Roadmap Template Discount Bundle (will save you over 50%).
Are you short on time?
Use these templates to help with this Best Practice:
Business Topics that support this Best Practice
Template and Guide Aspects that support this Best Practice